Since its inception in 1984, Impact Ohio has offered information-packed conferences to explore elections, the outcomes of the political process, and policy choices facing Ohio and its communities.
Business, political, and community leaders recognize Impact Ohio as a valuable forum for policy discussion.
At our Post Election Conference, held every two years immediately following the general election, Impact Ohio offers the first post-election opportunity to hear directly from those who will shape Ohio's policy and political agenda for the upcoming biennium.
Impact Ohio also holds regional conferences in communities across the state, offering local forums dedicated to issues important to Ohio's communities. At each regional Impact Ohio Conference, attendees hear first-hand from government officials, political analysts, pundits, and policy experts on issues important to their communities.
Each Impact Ohio Conference is co-sponsored with the Ohio Democratic and Republican Parties, allowing for a bipartisan look into the future of policy making.
Our Leadership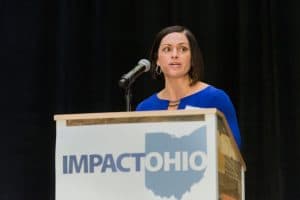 Jennifer L. Flatter serves as Chief Executive Officer for Impact Ohio and has more than 15 years of experience in government affairs. While earning her bachelor's degree at Capital University, she got her start in government relations while interning with The Success Group. She returned to the firm in 2011, after working in legislative affairs for the Ohio Department of Commerce, where she served as lead staff on Ohio's Foreclosure Prevention Task Force and focused on housing, real estate, financial institution, and federal policy issues. Previously, she served as a legislative aide in the Ohio Senate and on the Ohio Council on Women and Girls. Jennifer holds a master's degree in Public Administration from Ohio University and is a past president of Ohio Women in Government.  She was named a recipient of the Columbus Business First 40 Under 40 award.