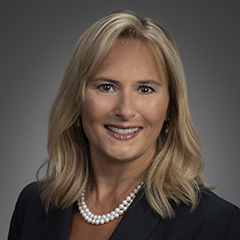 Kristi Tanner leads automotive business development efforts in Ohio and holds various roles within JobsOhio, including leadership in marketing, revitalization and organizational operations.
Kristi is certified as an economic development finance professional through the National Development Council and served several years as a member of Ohio's Development Finance Advisory Council. Prior to JobsOhio, Kristi was an assistant director and chief operating officer for the Ohio Department of Development. She graduated from Morehead State University in Kentucky with a bachelor's degree in communication and marketing.
Kristi has led economic development efforts at the local, regional and state levels, including establishing the governor's first regional economic development office in Southern Ohio. In fact, she was instrumental in the transition and startup of JobsOhio.