The Honorable Emilia Strong Sykes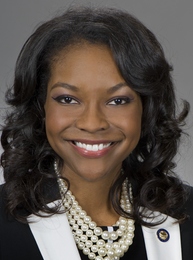 Emilia Strong Sykes was first elected to represent her hometown in 2014. She currently represents Ohio's 34th House district and serves as Minority Leader in the Ohio House of Representatives.
Born and raised in Akron, Ohio, Sykes attended Kent State University. She later attended the University of Florida, where she earned a law degree and a masters of public health.
In office, Leader Sykes has pushed an aggressive job creation plan, fighting to keep local jobs for local workers and expand opportunities for middle and working-class families in Akron. Leader Sykes understands the importance of quality education and job training for people to get ahead.
Leader Sykes has worked with colleagues to improve public health, increase access to care, and combat Ohio's high infant mortality rate. Her passion for social justice extends to issues such as voter rights, criminal justice reform, a more efficient social safety net for struggling Ohioans, and an end to domestic violence. Sykes' work on domestic violence issues has earned bipartisan praise and resulted in her legislation to protect people in dating relationships, House Bill 1, becoming law.
Recently, she and her caucus unveiled the Ohio Promise, a legislative framework to strengthen Ohio and restore its promise of better lives and brighter futures for all, and an economy that works for everyone.
Sykes previously served in the Democratic Leadership before being named Minority Leader in January 2019.