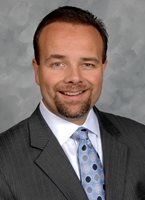 Currently, Executive Vice President of the Greater Cleveland Partnership (GCP) and Executive Director of its Council of Smaller Enterprises (COSE), Millard has been with GCP and its predecessor organization, the Greater Cleveland Growth Association, since 1997 and has served as COSE's President and Executive Director since 1999.
In addition to his work leading GCP's small business initiatives, he has had responsibility for its portfolio of member products and services, small business advocacy efforts, member services, and a number of economic development initiatives.
According to Marc Merklin, board chair of the Greater Akron Chamber and chair of the Chamber's search committee, "Steve is an experienced executive with excellent knowledge of how to serve members of our Chamber, foster economic development and advocate for the business community locally, in Columbus and in Washington. He brings a depth of knowledge of the region to our market and will be able to collaborate with the political leadership, our educational institutions, and business leaders here in the Greater Akron Area to advance our interests in fostering a growing and thriving business community. After a national search, we are fortunate to have found someone in our backyard capable of taking on the Chamber leadership role as we enter into our next strategic plan."
"I appreciate the confidence the Greater Akron Chamber's leadership has in me and am excited about the opportunities ahead for Greater Akron and the coalition of innovative leaders that is working on a variety of transformational opportunities for the region.  I look forward to being a part of that team and bringing my experience and perspective to the discussion," Millard said.
"My work with GCP has brought me into frequent contact with leaders and institutions across the region and I have seen Akron making a generational shift in civic and institutional leadership that is driving new opportunities.  The chance to be a part of that work is one of the key reasons I think this is the right opportunity at the right time for me," he added.
Serving Summit, Medina and Portage Counties, the Greater Akron Chamber is dedicated to ensuring the sustainable economic growth of the Greater Akron region and provides membership benefits with a focus on regional economic development.  Chamber members include global manufacturers, universities, local businesses and non-profit organizations.