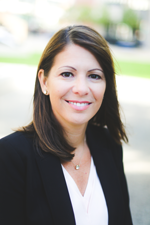 Wendy Gramza is the President and CEO of the Toledo Regional Chamber of Commerce. She assumed this role on July 1, 2014, after serving as Executive Vice President for eleven years. During her over 25 years as a Chamber professional, she has also served as Vice President of Business Development Services and held several other positions within the organization.
She is a graduate of the University of Toledo holding a Bachelor of Business Administration degree in Marketing. Ms. Gramza is a graduate of the U.S. Chamber of Commerce Institute for Organizational Management.
Wendy is a participant in the Chief of Staff of the Air Force's Civic Leadership Program. She is also a member of the Toledo Chapter of Rotary International. Ms. Gramza is a board member of Junior Achievement as well as a board member of the Boys & Girls Club of Toledo and the Alzheimer's Association, Northwest Ohio Chapter.
Ms. Gramza received the prestigious 20 Under 40 Award in 2005 which recognizes the professional accomplishments of people in Northwest Ohio under the age of 40.
Wendy holds the designation of Certified Chamber Executive (CCE) from the Association of Chamber of Commerce Executives.