The 2019 Impact Ohio Canton Regional Conference provided the opportunity to hear from numerous speakers who provided valuable insight into Ohio politics and policy making.  It was a great conference with some of the best minds in Ohio politics and policy including many elected officials.
Over 100 people attended the conference at Stark State College on Thursday, December 12. Speakers covered issues relating to workforce, the 2020 election, and economic development in the Canton Region.
Media coverage of the conference is listed below.
The outstanding event wouldn't have been possible without our sponsors and speakers!  Thank you!
The Honorable Robert Sprague, Ohio Treasurer of State
The Honorable Larry Obhof, President of the Ohio Senate
Dr. Para Jones, President of Stark State College
Robert Gessner, Chairman, Stark Economic Development Board and Business Growth Chair, Strengthening Stark Governance Committee
S. Ryan Hartong, Manager, Government Affairs and Attorney, The Timken Company
Ray Hexamer, President & CEO, Stark Economic Development Board
Hrishue Mahalaha, Senior Partner, Innovation Economy Partners and Chief Economic Development Consultant, Strengthening Stark
Tom Walsh, Vice President, Ohio Association of Community Colleges
Derrick Clay, President & CEO, New Visions Group
Robert Paduchik, Senior Advisor, President Trump's 2020 Re-Election Campaign and President, Agincourt Consultants
Todd Pugh, CEO & Founder, Enviroscapes Inc.
Dr. Donald M. Ball, Dean of Engineering Technologies, Stark State College
Jennifer Meek Eells, Executive Director, Stark Tuscarawas Workforce Development Board and OhioMeansJobs Stark and Tuscarawas Counties
Dave Kirven, President, East Central Ohio Building & Construction Trades Council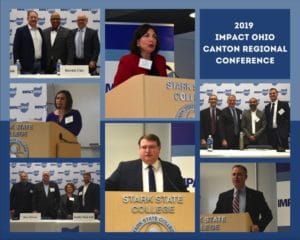 Thank you to all of our sponsors for making the conference possible!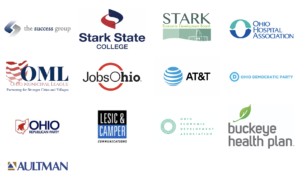 If you haven't tagged yourself in our photos yet, you still can! You can find all the photos from the 2019 Impact Ohio Canton Regional Conference on our Facebook Page. Check out the album here: 2019 Canton Regional Conference Photos.
Make sure to follow us on Instagram and Twitter, and like our page on Facebook to stay up-to-date on statewide policy and politics and our conferences!