The 2019 Impact Ohio Southeast Regional Conference provided the opportunity to hear from numerous speakers who provided valuable insight into Ohio politics and policy making.  Over 150 people attended the conference at The Ohio University Inn and Conference Center on Thursday, November 7. Speakers covered issues relating to healthcare, infrastructure, and economic development in the Southeast Ohio Region.
Media coverage of the conference is listed below.
It was a great conference with some of the best minds in Ohio politics and policy including many elected officials.
Thank you to all of our speakers!
The Honorable Steve Patterson, Mayor of Athens
Dr. Mark Weinberg, Founding Dean, Voinovich School of Leadership and Public Affairs
The Honorable Jon Husted, Lt. Governor of the State of Ohio
Dr. Jason Jolley, Professor and MPA Director, Voinovich School of Leadership and Public Affairs
Bret Allphin, Development Director, Buckeye Hills Regional Council
Jay Bennett, Public Service Director, City of Zanesville
Craig Butler, District Chief, Ohio Environmental Protection Agency Southeast District
Stephanie Gilbert, Transportation Planning Coordinator, Ohio Valley Regional Development Commission
John Carey, Director, Governor's Office of Appalachia
The Honorable Frank LaRose, Ohio Secretary of State
Dr. M. Duane Nellis, President, Ohio University
Dr. Marsha Lewis, Associate Professor and Senior Associate Dean, Voinovich School of Leadership and Public Affairs
Matthew Hammond, Executive Vice President, Ohio Oil and Gas Association
Sharon Hopkins, Director, Ohio University Procurement Technical Assistance Centers
Mike Jacoby, President and CEO, Appalachian Partnership for Economic Growth
Lydia Mihalik, Director, Ohio Development Services Agency
Thomas Hodson, Director & General Manager, WOUB Center for Public Media at Ohio University
Corrie Callaghan, Quality Assurance/Performance Improvement Director, Appalachian Behavioral Healthcare
Richard Hodges, Health Policy Executive in Residence, Ohio University
David Schenkelberg, Chief Clinical Officer, Hopewell Health Centers
Jennifer Westfall, Aging & Disability Director, Buckeye Hills Regional Council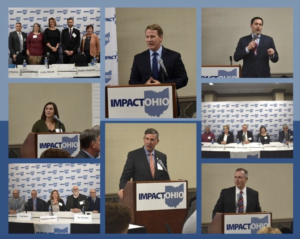 Thank you to our sponsors for making the conference possible!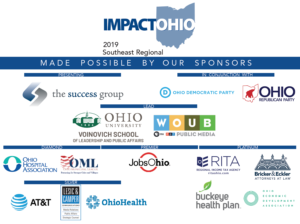 If you haven't tagged yourself in our photos yet, you still can! You can find all the photos from the 2019 Impact Ohio Southeast Regional Conference on our Facebook Page. Check out the album here: 2019 Southeast Regional Conference Photos.
Make sure to follow us on Instagram and Twitter, and like our page on Facebook to stay up-to-date on statewide policy and politics and our conferences!