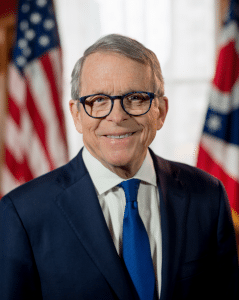 Impact Ohio is excited to announce that Governor Mike DeWine will be speaking at the 2019 Toledo Regional Conference on Thursday, March 14 at 10:15 a.m. at the Renaissance Toledo Downtown Hotel.
On November 6, 2018, Mike DeWine was elected to serve as the 70th Governor of the State of Ohio. Governor DeWine has had a long and distinguished career in public service, focusing on protecting Ohio's children and families. He was previously the 50th Attorney General of Ohio and was previously elected to serve as Greene County Prosecutor, Ohio State Senator, U.S. Congressman, Ohio Lt. Governor, and U.S. Senator.
Governor DeWine is focused on creating an inviting business environment and bringing and keeping jobs in Ohio. He cares passionately about our state's future and fights for an Ohio that works for everyone, putting family at the core of everything he does.
He and his wife, Fran, have eight children and 24 grandchildren.
We look forward to having Governor Mike DeWine join us at the conference to discuss issues that are important to both him and Ohioans.