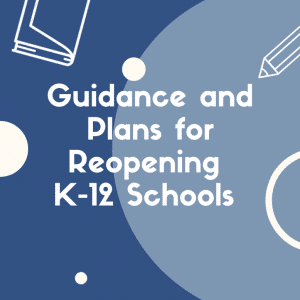 After schools were closed on March 13 due to the COVID-19 pandemic, it was unclear how school districts would reopen for Ohio's 1.7 million students in the fall. In a press conference on July 2, Governor DeWine announced a new set of guidelines from the Ohio Department of Health (ODH) and Department of Education (ODE) for reopening schools. While the majority of the new guidelines are strong recommendations, the only binding mandate is that school staff must wear face coverings like a mask or shield. The other guidelines include a strong recommendation for students in grades 3 and up to wear face coverings, symptom assessment, making regular handwashing and sanitizing available, social distancing, and disinfecting the school environment. The governor cited Ohio's long history of local control and the importance of schools individualizing their approaches to reopening as they understand their communities best. Governor DeWine also committed to working with the General Assembly to ensure federal CARES Act funds would be made available to schools for costs associated with creating a safe environment.
Creating a safe environment in schools is a unique challenge for Ohio's school districts. Students are in close proximity with others for an extended period of time, but students' well-being would be impacted by not returning. In the guideline document released by ODH and ODE, there are expanded illness spread prevention strategies, and ODH and ODE stress the importance of children attending school in the fall. According to the American Academy of Pediatrics, keeping children out of school will be detrimental to their academic progress, mental well-being, and behavior. Schools also provide basic needs for students such as food and mental and emotional well-being support. Additionally, students rely on schools for academic and social development. Along with the Centers for Disease Control best practices and resources, the document includes recommendations for reopening plans. It is recommended that schools layer their protective measures such as face masks and shields in buildings and on buses, sanitation, social distancing, and handwashing. It is also recommended that absences should not penalize students or staff as those who have potentially been exposed should be quarantined.
To help implement this guidance, ODE developed a separate planning guide that districts can reference when developing their reopening plans. The guide includes a summary of ODH and ODE guidelines, provides considerations for planning, and offers potential community partners resources for planning and implementation activities. ODE assumes that schools will need to be flexible and nimble as conditions change and recommends that plans should complement community mitigation strategies, be committed to meeting Ohio's Learning Standards, and protect students from stigma and discrimination. Another recommendation is that if schools cannot meet ODH and ODE's guidelines, they should remain closed. ODE is working with the governor and the General Assembly on establishing requirements for instructional days and hours, course seat-time, attendance and truancy, graduation, and mixed modes learning approaches.
Several Ohio school districts have released plans for their fall reopening with many of them considering fewer in-person instructional days, mask policies, and remote learning options. Cincinnati schools announced that students would be divided into two groups. One group would be in classrooms three days a week while the other group would be in classrooms for the other two days, and the groups would alternate weekly. Columbus schools announced they are considering having high school students learn online while younger students would attend in-person class two days a week and attend remotely the other three days. The Cleveland Heights-University Heights district announced four possible attendance options. They include a possible five day in-person option for K-12 students, two groups of students rotating on a two day per week in-person schedule, and the other two options are fully remote. Dayton City Schools announced a detailed plan for their reopening. Their plan includes distanced desks, temperature and symptom checks, face mask or shield requirement for students, and barring visitors. They will provide an online schooling option with evening hotline support for all of their students. In their plan, they also announced that if any student is diagnosed with COVID-19, the school will close for 14-28 days for sanitation.
The approach to reopening schools will likely vary throughout the state as pandemic conditions have unique effects on Ohio's communities. The governor, ODH, ODE, and the American Academy of Pediatrics all stress the importance of students returning to school. While the traditional school experience may not resume, districts are planning for a safe reopening.