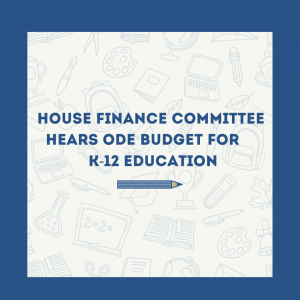 On Thursday, February 11, Ohio Department of Education (ODE) Superintendent Paolo DeMaria offered budget testimony for Ohio's FY 2022-2023, heard by the Ohio House Finance Committee.
Superintendent DeMaria's testimony covered the various proposals suggested in the executive budget for FY 2022-2023, including justifications and context on where the progress of different ODE programs currently are. DeMaria recognized how the COVID-19 pandemic affected the education system for students, teachers, and staff that led to closing schools and the adjustment to remote learning. ODE thanked all of the administration, teachers, staff, and legislator's support in pursuing ODE's vision "to ensure each child is challenged, prepared and empowered for future success," according to his testimony.
DeMaria noted the overarching initiatives of "Safe and Supportive Schools", early childhood education, as well as career and high school readiness. Data shows a need for learning recovery in Ohio's students, resulting in executive budget recommendations of a 3.2% overall increase in the budget for 2022, going from about $7.9 billion to $8.2 billion, and a subsequent 0.4% decrease for 2023 for a total of $8.1 billion.
The written testimony from the Superintendent of Public Instruction, Paolo DeMaria, can be found here, and the video testimony can be found here.
Please visit here for an overview of the Governor's budget. The Blue Book for the Governor's budget can be located here.
When the Ohio House holds hearings, they can be watched live on the Ohio Channel.