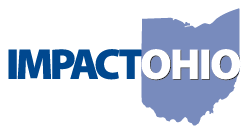 FOR IMMEDIATE RELEASE                                                                                                            
August 16, 2017
Impact Ohio Conference Coming to Toledo to Talk Policy and Politics
Columbus, OH–Impact Ohio will hold its first regional conference in Toledo on Friday, September 15 at the Renaissance Toledo Downtown Hotel from 8 a.m. to 1:30 p.m. The 2017 Impact Ohio Toledo Regional Conference is a partnership effort with The Success Group, the Toledo Regional Chamber of Commerce, and The Blade.
The conference will offer a special opportunity to explore policy and politics important to the Toledo region.
"We expect to have an engaging dialogue on a variety of topics, and we look forward to having Toledo-area business and community leaders gather at the conference to network and gain new insight into policy issues facing the community," said Jennifer Flatter, CEO of Impact Ohio.
The conference agenda includes political and policy discussions featuring government leaders, political analysts, pundits, and policy experts as panelist.
Brian Dicken, Vice President of Advocacy and Public Policy for the Toledo Regional Chamber of Commerce, sees the Impact Ohio Toledo Regional Conference as a great opportunity for the region.
"This can't miss conference will feature the two top voter getters in the Toledo Mayoral primary and a look at the smart cities initiative to help prepare for the opportunities that lie ahead for the region," Dicken said.
In addition to the mayoral candidates and a panel on smart cities, the conference will hold a panel with media personalities called "Observations from the Fourth Estate in the Age of 'Fake News'."
The luncheon address, "Political Insight: The State of the Parties in Lucas County," will be a moderated discussion with Joshua Hughes, Chairman of the Lucas County Democratic Party and Mark Wagoner, Vice Chairman of the Lucas County Republican Party.
"Advocating for a thriving business climate is at the core of the Toledo Regional Chamber of Commerce's mission on behalf of its members. That is why the Chamber is pleased to partner with The Success Group to present the Impact Ohio Regional Conference in Toledo," Dicken said.
 The Success Group launched Impact Ohio in 1984 with the first Post Election Conference in Columbus, which is held every two years immediately following the general election. Interest has grown over the last 30 years, which led Impact Ohio to expand in 2017.
"​After each conference we hear how much value our attendees gain from our expert-led panels and the opportunity to network with other attendees.  Because of this enthusiasm, we had the desire to share Impact Ohio with other communities and are excited to hold our first regional conference in Toledo," Flatter said.
The Toledo conference is co-sponsored with the Ohio Democratic and Republican Parties, allowing for a bipartisan look into the future of policy making.
Registration and details on conference panelists can be found at www.impactohio.org.
–30–