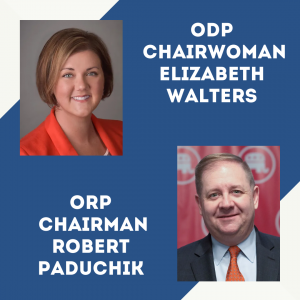 In the last couple of months, the Ohio Democratic Party and the Ohio Republican Party have both elected new chairs to lead the respective parties going forward. ODP elected its first Chairwoman, Elizabeth Walters, on January 14 after former Chairman David Pepper's departure, and ORP elected Robert Paduchik on February 26 after former Chairman Jane Timken stepped down to run for the U.S. Senate.
ODP Chairwoman Elizabeth Walters serves as President of the Summit County Council and was previously the ODP Executive Director in 2014. At age 37, Walters is the first female chairperson that ODP has had. The Executive Committee also selected Andre Washington to be the First Vice-Chair.  Several Democratic leaders including Senator Sherrod Brown and Congresswoman Joyce Beatty have made remarks that welcomed the new leadership and expressed optimism for the party's progression under Walters and Washington. ODP leadership looks forward to the upcoming 2022 mid-term elections.
Former ORP Chairman Jane Timken resigned from her position in early February in order to pursue the 2022 U.S. Senate race. Robert Paduchik was elected to replace her in late February. The new ORP Chair has been working in Ohio politics for decades and his career has most recently included directing former President Donald Trump's 2016 campaign in Ohio, as well as being Trump's Senior Adviser for the 2020 campaign. Chairman Paduchik was also the Co-Chair of the Republican National Committee from 2017 to 2019. Paduchik mentions looking forward to increasing ORP presence in judicial races and increasing ORP engagement in urban areas.
Welcome to Chairwoman Walters and Chairman Paduchik!