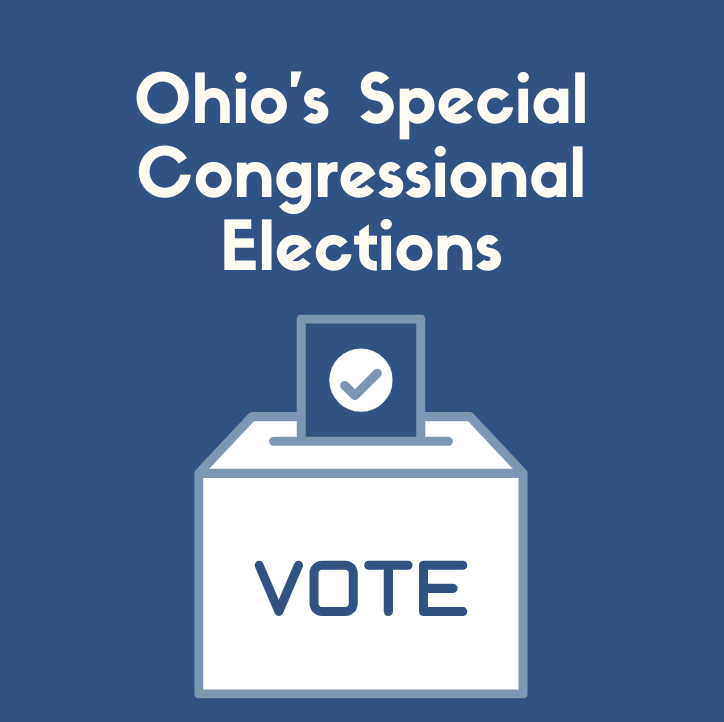 With the resignations of former Congresswoman Marcia Fudge (D-Cleveland) and former Congressman Steve Stivers (R-Upper Arlington), many Ohioans will have special elections this August and November to elect the next members of Congress for Ohio's 11th and 15th Congressional Districts.  For both seats, the primary is set for August 3, and the general election will be held November 2.
Former Representative Marcia Fudge (D-Warrensville Heights) stepped down from her position in order to assume the position of Secretary of Housing and Urban Development within President Biden's cabinet. Since 2008, Fudge represented District 11, which includes parts of Cuyahoga County and Summit County.
May 5 was the cut-off date for candidates to file in order to run and appear on the August 3 special election ballot for the 11th District.  There are 15 confirmed candidates who are running to replace Congresswoman Fudge, including 13 Democrats and two Republicans:
Issac Powell (D)
James Jerome Bell (D)
Former State Senator Jeffrey David Johnson of District 21 (D)
Former State Representative John E. Barnes Jr. of District 12 (D)
Lateek Shabazz (D)
Martin Alexander (D)
State Senator Nina Turner of District 25 (D)
Pamela Pinkney (D)
Seth J. Corey (D)
Former State Senator Shirley Smith of District 21 (D)
Cuyahoga County Councilwoman Shontel Brown (D)
Tariq Shabazz (D)
Will Knight (D)
Felicia Washington Ross (R)
Laverne Gore (R)
For the 15th Congressional District, candidates had until May 17 to file paperwork for the primary race to replace former Congressman Steve Stivers (R-Columbus), who recently started a new job as President and CEO of the Ohio Chamber of Commerce. Stivers had represented District 15, which spans from Upper Arlington to Athens to McConnelsville, since 2011.
There are 12 Republican candidates and two Democratic candidates who filed in order to run and appear on the August 3 special election ballot:
State Representative Allison Russo of District 24 (D-Upper Arlington)
Greg Betts (D)
State Senator Bob Peterson of District 17 (R-Washington Courthouse)
State Representative Brian Stewart of District 78 (R-Ashville)
Eric M. Clark, LPN at Wright-Patterson Air Force Base (R)
State Representative Jeff LaRe of District 77 (R-Violet Township)
John Adams, owner of Green Valley Chemicals (R)
Mike Carey, Vice President of government affairs at American Consolidated Natural Resources (R)
Omar Tarazi, attorney and Hilliard City Council member (R)
Former State Representative Ron Hood of District 78 (R-Ashville)
Ruth Edmonds, former Relations Director at the Center for Christian Virtue (R)
State Senator Stephanie Kunze of District 16 (R-Hilliard)
Thad Cooperrider, former Perry County Commissioner (R)
Thomas Hwang, Owner of The Virtues Golf Club (R)
The August 3 primary will  narrow down the field to one Democratic candidate and one Republican candidate for each race.  The primary winners will then face off on November 2.