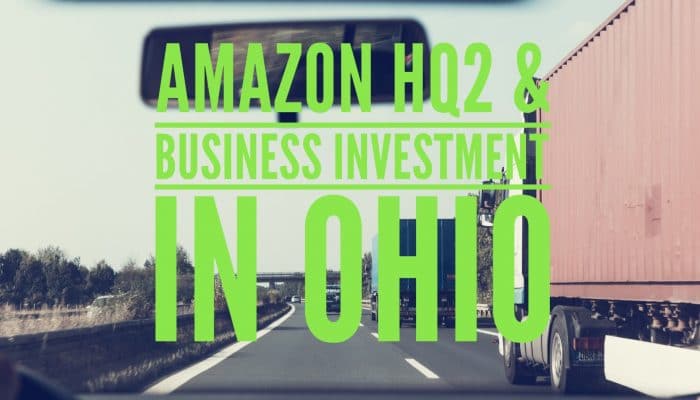 A favored line of politicians is that their policies will bring new businesses and investments to their communities, but what really makes businesses decide to put down roots in an area?  This question is at the front of local and state leaders' minds as the stakes for attracting new business to the state appear higher than ever.
Earlier this year, the City of Columbus was chosen as one of 20 finalists for Amazon's HQ2 project. The project, which Amazon says would be the equivalent of its current headquarters in Seattle, would bring 50,000 high-paying jobs and $5 billion worth of investments to the city chosen for the project.  Landing the project would dramatically reshape the future of the Columbus region and help the state shed some of its rust belt image.  Most experts tend to give Columbus weak chances of getting the project, but that does not mean the city has not been boosting its appeal to businesses.
In its request for proposal (RFP), Amazon highlighted desires to be close to major transportation networks and locate in a city with a strong pool of technical talent.  In their bid, Columbus officials emphasized the area's geographic proximity to much of the nation's population and its large institutions of higher education, specifically Ohio State University.  Amazon's RFP also notes factors that businesses and real-estate experts say are important to site selection decisions across industries.  For example, Amazon says the tax and regulatory environment of the city, quality of the local workforce, logistical considerations, and city amenities will impact its decision of where to locate HQ2.  Columbus' selection as an Amazon finalist demonstrates that the city has a lot to offer businesses regardless of industry, and economists and business experts are beginning to take notice.
An aspect of the Amazon project and other business investment decisions that rubs some the wrong way is offers of large tax incentive packages by city and state officials. Tax incentive packages have increasingly been subject to criticism by economists and others who say they amount to corporate welfare and take away funds for other essential services like infrastructure and education.  As part of its Amazon bid, Columbus is offering a 15-year, 100 percent property tax abatement for all properties that are part of the headquarters and a 35 percent refund of income-tax withholdings for new employees. Critics say the hundreds of millions of dollars in forgone tax revenue could benefit parts of communities not impacted by corporate relocations.  Some cities have even declined or drastically reduced offers of tax breaks to companies like Amazon.  At the same time, the opportunity to bring jobs and investment dollars to a community makes it difficult for elected officials not to try to improve their odds of landing a given project.
Regardless of the efficacy of tax breaks and whether Columbus gets the Amazon project, all signs seem to suggest a positive future for the region.  To learn more about economic development in Columbus and Ohio, look out for Impact Ohio's upcoming events where these topics and others will be discussed in detail by policy experts and decisionmakers.