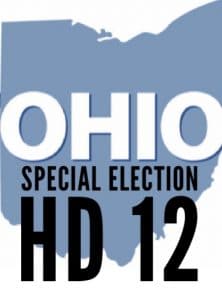 State Senator Troy Balderson emerged victorious over Franklin County Recorder Danny O'Connor in a nationally watched special election on Tuesday, August 7 to fill the open seat left when Representative Pat Tiberi resigned earlier this year. Democrat Danny O'Connor opened an early lead based on a strong performance in early and absentee voting, but Republican Troy Balderson gradually made up ground to win a narrow victory of 1,754 votes, or 0.9 percentage points.
O'Connor won big in the parts of OH-12 in Franklin County, but this was not enough to offset Balderson's tallies in other parts of the district, including an 8,700 vote win in Licking County.  Balderson beat O'Connor by enough votes in suburban Delaware County, considered by many as the pivotal swing county. Although O'Connor performed better in that county than other Democrats have done historically.
President Donald Trump took to Twitter Tuesday night taking credit for Balderson's victory and citing his weekend rally in the district as the necessary final push for the campaign.  President Trump also stated he is positive Balderson will win big again in November.
The results will not become official until remaining provisional and absentee ballots are counted, but the result from Tuesday night is not expected to change.
Balderson's road to victory was not easy.  The Republican-affiliated Congressional Leadership Fund and the National Republican Congressional Committee, spent nearly $5 million on the race in support of Balderson. This spending is in addition to two visits from Vice President Mike Pence and President Trump's Saturday rally. The large amount of spending needed to eke out a victory in the traditionally Republican stronghold has national Republicans worried and Democrats excited for the midterm elections in November.
The 12th District has been represented by a Republican for thirty-five years. Democrats are taking comfort in the closeness of the race in a district President Trump won by 11 percentage points in the 2016.  The race remains on trend with special elections across the country as Democrats continue to outperform expectations.