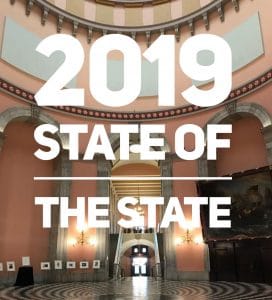 On March 5th Ohio Governor Mike DeWine addressed all Ohioans in the State of the State. Governor DeWine spoke to the variety of policy priorities his administration will be focusing on in the coming years.
DeWine opened his speech by calling on Ohio to increase investments in failing infrastructure, asking for $1.2 billion dollars, or the "bare minimum," to invest in our roads and bridges. He noted that Ohio has not seen an increase in the gas tax since 2005. DeWine stated that doing nothing will only lead to further infrastructure depletion and increasingly dangerous road conditions.
DeWine outlined the importance of preserving Lake Erie and other bodies of water around Ohio. To do so, he announced the addition of the newly created H2-Ohio Fund. H2-Ohio will invest in efforts to ensure the long-term health of Ohio's lakes and rivers. DeWine noted the importance of cleaning up bodies of water such as Lake Erie and protecting them against future contamination to prevent situations like the 2014 Toledo water crisis.
The Governor prioritized Ohio children with proposals to reduce lead paint exposure, increase wrap-around services for in-need youth, and provide in-school substance abuse prevention education at all grade levels. DeWine hopes this comprehensive plan will keep Ohio children healthy and educated on the dangers of drug, alcohol, and tobacco use. Infant mortality was another major policy priority mentioned during DeWine's address. The Governor noted that in Ohio, "African American babies are dying at almost three times the rate of white babies, leaving Ohio ranked 49th worst in the nation for deaths of African American infants." DeWine pointed to his Health and Human Services team who will be focusing heavily on this issue to save the lives of Ohio's infants.
Increasing opportunity zones is a policy priority to DeWine, who emphasized the importance of workforce development throughout his address. He called on Ohio to invest in career-tech centers and two-year community colleges. The Governor also hopes to reduce the financial burden on Ohio college students through consistent four-year tuition rates.
Finally, DeWine spoke to the dangers of addiction in Ohio. His administration hopes to address this public health crisis by increasing resources to local communities' treatment programs. DeWine established a new public health fund dedicated to increasing public health awareness and prevention strategies to help those struggling with mental health and addiction. He also called for enhanced assistance to law enforcement through the creation of the Narcotic Intelligence Center which will use high-tech analytical strategies to strengthen criminal investigation to improve public safety.
The complete speech can be found here.