If you still need to register for the Impact Ohio Southeast Regional Conference  you have four more days until registration closes on Thursday, October 31.  The conference is on Thursday, November 7, from 11:00 a.m. to 4:30 p.m. at The Ohio University Inn & Conference Center (331 Richland Ave, Athens, OH 45701).
We have an exciting agenda set for the conference which includes remarks from Lt. Governor Jon Husted, Athens Mayor Steve Patterson, Treasurer of State Robert Sprague, Secretary of State Frank LaRose, Representative Jay Edwards, and Ohio University President Dr. M. Duane Nellis.  The day also includes three separate policy discussions on issues important to the region.  Below are details for the policy sessions.
The first policy session of the day, Exploring Infrastructure Needs in Southeast Ohio, will begin at 12:30 p.m. A panel of experts experts will discuss what the future looks like for infrastructure in the Appalachian region.  From water to transportation, Southeast Ohio faces infrastructure challenges of its own. This panel will explore how multifaceted infrastructure challenges impede the livelihood of citizens and the economy in Southeast Ohio and what's being done to overcome those challenges.
Moderator: Dr. Jason Jolley, Professor and MPA Director at the Voinovich School of Leadership & Public Affairs
Panelists:
Bret Allphin, Development Director, Buckeye Hills Regional Council
Jay Bennett, Public Service Director, City of Zanesville
Craig Butler, District Chief, Ohio Environmental Protection Agency Southeast District
Stephanie Gilbert, Transportation Planning Coordinator, Ohio Valley Regional Development Commission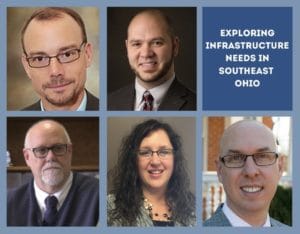 The second panel of the day, Economic Opportunity and Elevating the Regional Economy, will begin at 2:30 p.m.  Solutions to economic challenges are complex, especially in Appalachian Ohio.  This session will explore some of the various economic development tools useful for economic progress and how entities can work together to usher in a new era of innovative growth opportunities for the region.
Moderator: Dr. Marsha Lewis, Associate Professor and Senior Associate Dean, Voinovich School of Leadership & Public Affairs
Panelists:
Matthew Hammond, Executive Vice President, Ohio Oil and Gas Association
Sharon Hopkins, Director, Ohio University Procurement Technical Assistance Centers
Mike Jacoby, President and CEO, Appalachian Partnership for Economic Growth
Lydia Mihalik, Director, Ohio Development Services Agency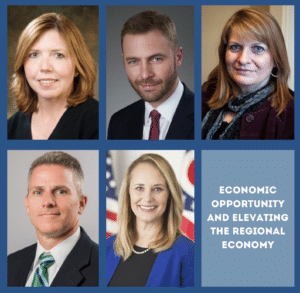 During the final panel of the day, Creating a Culture of Health in Appalachian Ohio, at 3:30 p.m., panelists will discuss what the future looks like for healthcare and general wellness in the Appalachian area.  Southeast Ohio faces numerous health disparities when compared to the rest of the state.  This panel will explore ideas that policy makers can consider to improve health outcomes regionally.
Moderator: Thomas Hodson, Director & General Manager, WOUB Center for Public Media at Ohio University
Panelists:
Corrie Callaghan

, 

Quality Assurance/Performance Improvement Director, Appalachian Behavioral Healthcare

Richard Hodges, Health Policy Executive in Residence, Ohio University
David Schenkelberg, Chief Clinical Officer, Hopewell Health Centers
Jennifer Westfall, Aging & Disability Director, Buckeye Hills Regional Council