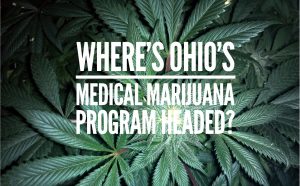 House Bill 523 legalized medical marijuana in 2016, allowing those with qualifying medical conditions to access medical marijuana from certified physicians. Years later, Ohio is still grappling with its medical marijuana program. Creating a program surrounding a substance that was once entirely illegal and finding experienced practitioners has proven difficult. The current program has certified 250 doctors, in addition to awarding 26 provisional licenses to growers and 56 provisional licenses to dispensaries.
Ohio recently missed the September 8 deadline for rolling out a finalized program. This is not as uncommon, as many states have experienced trouble in getting their programs off the ground. One cause of this delay is the complex and arduous application process resulting from regulations surrounding the industry. Many businesses that had applied to become cultivators were denied, which resulted in various instances of failed applicants filing lawsuits. A variety of regulatory hurdles and red tape still stand in the way of licensed cultivators. Only 4 of the 26 cultivation sites have passed inspection and begun production. The first cultivator to pass inspection estimates they will harvest the product in December and have it on dispensary shelves by the beginning of the new year. Ultimately, competition over licensing has significantly slowed down the program's implementation.
Patients and caregivers involved in the State's medical marijuana program are required to register with the State Board of Pharmacy.  This registry was expected to launch in early September, but that too has been delayed.
A growing body of research points to medical marijuana as a viable replacement for some opioids prescribed for pain relief. In addition, Some people struggling with epilepsy, chronic pain, colitis and other ailments think medical marijuana could be the solution they have been looking for. These prospective medical marijuana patients have expressed concern and frustration over the missed deadline and hope to see an emphasis on implementation in the coming months. The current medical marijuana plan lists 21 qualifying conditions and will be accepting applications at the end of the year for any missed conditions. The conditions will be reviewed by a board of medical experts.
Several companies have already invested millions  in getting Ohio's medical marijuana program off the ground, an indicator that this new industry is here to stay. Proponents of the program claim it will have a major economic impact on the state, creating both jobs and taxable goods. These folks are less concerned with the missed deadlines, claiming that ensuring the program's safety is more important than rushing its implementation. Though there have been many hurdles in getting Ohio's medical marijuana program up and running, the delays indicate that policymakers are doing their best to ensure the program will be as well-balanced and effective as possible.