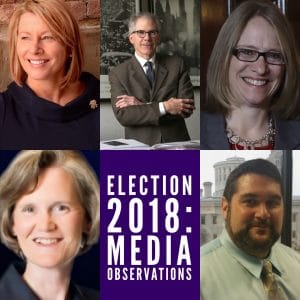 As the 2018 Impact Ohio Post Election Conference nears, we are excited to announce the panelists for the "Election 2018: The Media's Observations." Impact Ohio has invited experts in journalism and reporting to share their thoughts on Election Day results and what role media has played in the 2018 election season.
"Election 2018: The Media's Observations" will be the second plenary session at the Post Election Conference on Thursday, November 8 at the Greater Columbus Convention Center.  The session will run from 9:45 a.m.-10:45 a.m. in the Union Station Ballrooms AB.
Jenny Camper, Principal of Lesic & Camper Communications will moderate the panel. Camper has more than 25 years of experience in statewide media relations, government, campaigns, and strategic communications.
Panelists will include Laura Bischoff, Julie Carr Smyth, Michael Douglas, and Jim Siegel.
Laura Bischoff, Statehouse Reporter for the Dayton Daily News, has been working in media since 2001. With a multitude of breaking stories, Bischoff brings extensive knowledge of state and local government.
Julie Carr Smyth, Statehouse Correspondent for the Associated Press, has covered the Ohio Statehouse for 18 years. Carr Smyth began as an investigative reporter and currently works as a lead correspondent.
Michael Douglas, Editorial Page Editor for the Akron Beacon Journal and former Chief Editorial Writer is responsible for opinions expressed the Akron Beacon Journal. He previously served as a top reporter for the Beacon Journal.
Jim Siegel, Statehouse Reporter for the Columbus Dispatch focuses his work on the policy and politics of the Ohio General Assembly. Siegel has reported on the last seven state budgets and has extensive knowledge of the Ohio election process.
We are honored to have these special guest at the conference and look forward to hearing their insights on this important topic.