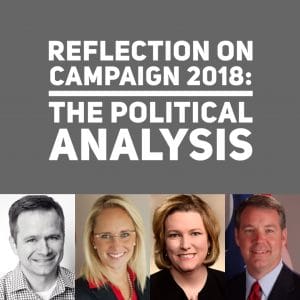 The opening plenary session of the 2018 Post Election Conference will be "A Reflection on Campaign 2018: The Political Analysis."  In this session, two of Ohio's mayors and some of Ohio's top political consultants will reflect on the 2018 campaign season, the outcome of Election Day, and where Ohio is headed.
The session will take place at 8:45 a.m. on Thursday, November 8, at the Greater Columbus Convention Center's Union Station Ballrooms AB with Dan McCarthy, President of The Success Group, moderating.  Panelists include Mayor of Findlay, Lydia Mihalik, Mayor of Dayton, Nan Whaley, Kevin DeWine, Partner at CBD Advisors, and Aaron Pickrell, Principal of Remington Road Group.
Dan McCarthy is responsible for The Success Group's day-to-day business operations. While he has an extensive background in health care issues, Dan serves a broad array of clients in transportation, telecommunications and other fields.
Kevin DeWine is known as an expert in government affairs, public policy, and political matters.  He helps clients navigate state and federal government agencies with advocacy, strategy, and planning.  He was previously chairman of The Ohio Republican Party.
Mayor Lydia L. Mihalik is the 55th Mayor of Findlay. On November 8, 2011, she was elected Findlay's first female Mayor, gaining more than 73% of the votes. Mayor Mihalik took office on January 1, 2012 and has invested much time and effort into making Findlay a great place to live.
Aaron Pickrell is one of the leading political influencers in the consulting business in Ohio.  He has served as a leader in national, state, and local campaigns including serving as Senior Advisor for both of President Obama's Ohio campaigns and Hillary Clinton's 2016 campaign.
Mayor Nan Whaley was first elected to the Dayton City Commission in 2005 and was elected mayor of Dayton in 2013.  In 2017, she was re-elected without opposition. She is a founding member of the Ohio Mayor's Alliance, a bi-partisan organization of Ohio's 30 largest cities.
We look forward to having these esteemed panelists at the 2018 Post Election Conference.