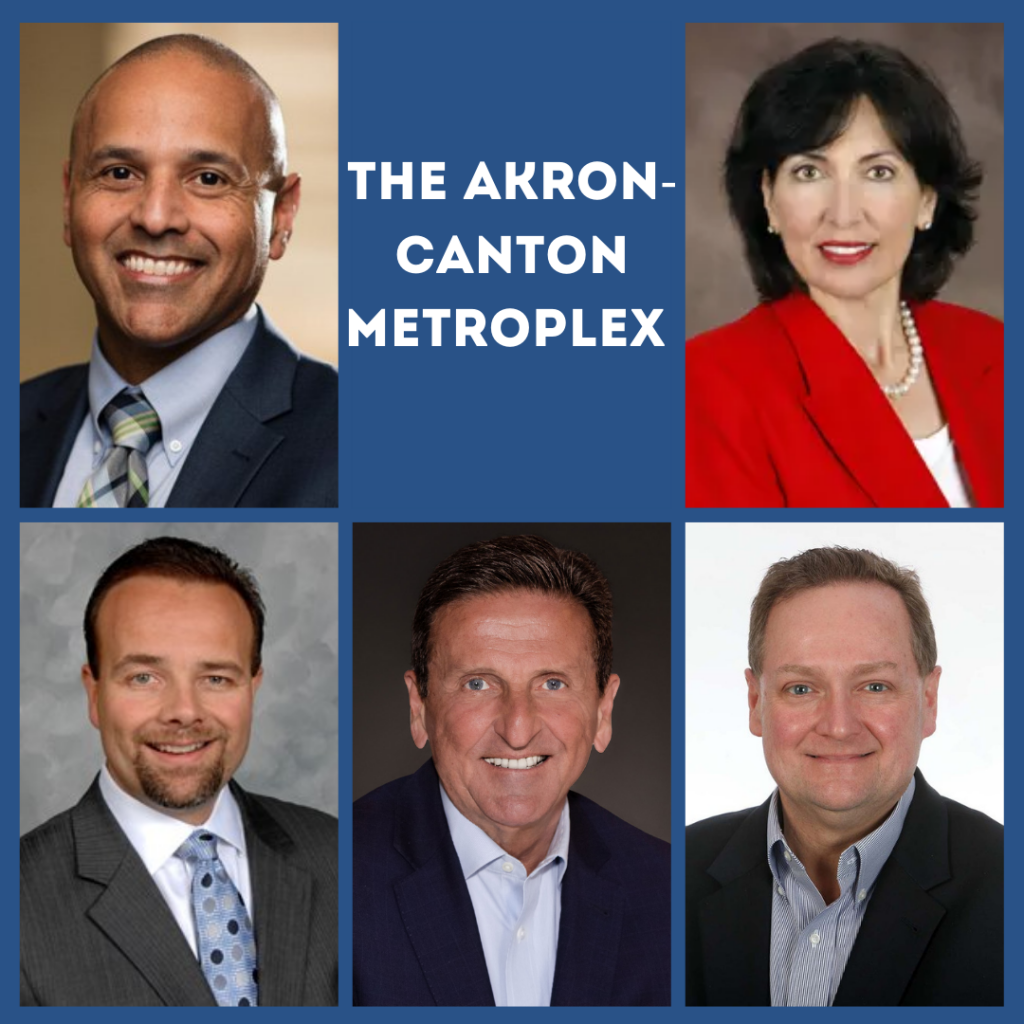 "The Akron-Canton Metroplex," will be one of three panels at the virtual 2021 Akron-Canton Regional Conference on April 23. The panel is focused on regional collaboration around key economic development initiatives. Panelists will discuss recent economic development efforts to benefit Akron-Canton and how the Metroplex concept has served those efforts. This session will take place from 10:15 a.m.-11:15 a.m. via Zoom.
Panelists include Dr. Para Jones, President of Stark State College, Steve Millard, President & CEO of the Greater Akron Chamber, Dennis Saunier, President & CEO of the Canton Regional Chamber of Commerce, and Renato "Ren" Camacho, President & CEO of the Akron-Canton Airport. Michael Shearer, Editor, Akron Beacon Journal/BeaconJournal.com and Regional Editor Northern Ohio – USA TODAY Network, will be moderating the panel.
Michael Shearer has earned a reputation as a highly successful executive editor, business and community leader. Shearer joined the Akron team as an editor in 2019 after serving as Regional Editor for Northeast Ohio and General Manager/Editor of the Record-Courier in Kent. He has more than 20 years of top editor experience across Ohio and currently is the Beacon Journal's Market Leader, as the Beacon Journal's face and go-to representative. His regional editor role involves overseeing 11 additional USA TODAY Network newsrooms, including the Canton Repository.
Renato "Ren" Camacho is the President & CEO of Akron-Canton Airport. His core responsibilities include leading a team of airport employees, strategic planning for the future of the airport, and directing all capital improvement programs. Specifically, Camacho ensures the airport is a vital, economic engine that increases economic activity and pride in Northeast Ohio. He has over four decades of professional experience in the aviation and transportation engineering sectors, specializing in program management and customer service. He has been involved in initiatives including runway safety area improvements, master plans, lease negotiations with airlines, new business development initiatives, and major airport infrastructure projects. Camacho previously served as Chief of Planning and Engineering with the Cleveland Department of Port Control, Burke Lakefront Airport, and the Lakefront Harbors after working with the Port Authority of New York & New Jersey. Today, Camacho continues to serve on various local boards and organizations in the area.
Dr. Para M. Jones became Stark State College's president in early 2012, after being president of Spartanburg Community College in South Carolina, where she expanded enrollment and outreach, opened a new campus, added new academic programs, and spearheaded the planning and fundraising for a new downtown campus in the heart of Spartanburg. Before Spartanburg, she spent 22 years at Stark State as vice president overseeing donor relations, marketing, and communications, grants administration, and student services. Dr. Jones holds a Ph.D. from the University of Nebraska, an MBA with honors from Ashland University, and a bachelor's degree magna cum laude from the University of Mount Union. She can also be found chairing the Stark County P-16 Compact, serving on the boards of Stark Development Board, the Canton Regional Chamber of Commerce, the Stark Education Partnership, the Canton Symphony Orchestra, the Stark and Tuscarawas County Workforce Investment Board (WIB), and The Manufacturing Institute.
Steve Millard is President & CEO of the Greater Akron Chamber and in that role is responsible for leading the Greater Akron Area's Metropolitan Chamber of Commerce serving Medina, Portage and Summit Counties. Millard's work is focused on the chamber's efforts to drive jobs and investment in the Greater Akron region, improve the region's competitiveness and to advocate for the needs of the business community in the region with its elected and appointed officials. Prior to joining the Greater Akron Chamber, he served as Executive Vice President of the Greater Cleveland Partnership and as President and Executive Director of COSE (the Council of Smaller Enterprises). Millard has also previously worked in various positions in supply chain management. He is a certified chamber executive and serves on several not for profit and for-profit boards. Millard has a BS in Transportation and Distribution Management and a BS in Finance from Syracuse University and his MBA from Case Western Reserve University.
Denny Saunier has dedicated his career to making Canton and Stark County the best possible place to work, live and play for the past 40+ years. He joined the Canton Regional Chamber of Commerce in 1980 when he assumed the role of president of the Canton/Stark County Convention and Visitors' Bureau. In 1994, Denny became the executive director of the Pro Football Hall of Fame Enshrinement Festival, helping direct and grow a world-class two-week festival. He was promoted to executive vice president of the Canton Regional Chamber in 2000, then president & CEO in 2001, a position he has held ever since. In addition to leading the Chamber, he serves on numerous boards and committees, including the Canton Regional Chamber of Commerce Board, Pro Football Hall of Fame Board, Malone University Advisory Board, Steering Committee for the City of Canton's Comprehensive Plan, Stark County Bar Association Grievance Committee, and the Board of Directors for the Downtown Canton Land Bank and Downtown Canton Special Improvement District. He was also a founding member of the Stark Civic Group.
We look forward to having these speakers reflect on the most pressing issues facing the Akron-Canton Metroplex and share plans to move the region forward.