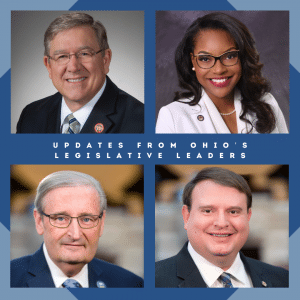 We are pleased to announce that all four caucus leaders of the 133rd Ohio General Assembly will speak at the 2020 Post Election Conference.
We look forward to hearing from Ohio House Speaker Robert Cupp, Ohio Senate President Larry Obhof, Senate Minority Leader Kenny Yuko, and House Minority Leader Emilia Sykes throughout the day.
Conference attendees will hear about legislative priorities and plans for the remainder of the 133rd General Assembly and for the upcoming 134th General Assembly.
Senate President Larry Obhof will give remarks at 8:30 a.m. Obhof has proudly represented the people of the 22nd Senate District since 2011, which includes Medina, Ashland and Richland Counties, and portions of Holmes County. He was unanimously chosen by his colleagues to serve as Senate President in the 132nd General Assembly and has received numerous honors, including several "Legislator of the Year" awards. In addition to his legislative duties, Obhof is an attorney at Squire Patton Boggs LLP. He received his bachelor's degree from The Ohio State University and his law degree from Yale Law School.
Senate Minority Leader Kenny Yuko will speak at 8:45 a.m. Yuko has represented Ohio's 25th Senate District since 2015, which includes parts of both Cuyahoga and Lake Counties. He attended both Cuyahoga Community College and Kent State University before entering the workforce. He served with the Laborers' Local #860 for 30 years, including 25 years as union organizer. With this experience under his belt, Leader Yuko ran for State Representative in 2004. He won convincingly and was subsequently re-elected for three more terms. During his tenure in the House, he served as both Chairman and Ranking Member of the Commerce and Labor Committee and was also a member on the Committees on Health and Aging and Veterans Affairs.
House Minority Leader Emilia Strong Sykes will join the conference at 10:15 a.m. She was elected to represent Ohio's 34th House District in November 2014. Leader Sykes serves as Democratic leader of the House minority caucus, a position to which she was elected by her colleagues. She previously worked at the Summit County Fiscal Office and at Community Legal Services in Akron. Leader Sykes also served as Law Clerk to the Chief Judge of U.S. Bankruptcy Court in the Northern District of Georgia. She attended Kent State University, graduating magna cum laude with a B.A. in Psychology and later attended the University of Florida, where she earned a Juris Doctorate with a Certificate in Family Law from the Levin College of Law and a Master of Public Health from the College of Public Health and Health Professions.
House Speaker Robert Cupp will join the conference at 10:30 a.m. Speaker Cupp is serving his third term in the Ohio House of Representatives. He has served as an elected official in all three branches of government and at both the local and state levels: as an Allen County commissioner, a four-term state senator, a court-of-appeals judge, and a justice of the Supreme Court of Ohio. He also served as a city prosecutor and as Chief Legal Counsel to former Ohio Auditor of State, Dave Yost. In the Senate, Speaker Cupp served two terms as the President Pro Tempore, the Senate's 2nd highest leader.  For his legislative accomplishments, he received numerous "Legislator of the Year" awards from various organizations. In addition to his public service, he engaged in the private practice of law in Lima for more than 25 years and has taught courses in leadership studies, judicial process, and state education policy at Ohio Northern University.
We are excited to hear from these esteemed legislators on November 5. Additional conference details and registration can be found here.