The 2019 Dayton Regional Conference was a successful event with elected officials, policy professionals, and those interested in business and government in attendance.
Nearly 200 people attended the conference at Daniel J. Curran Place on Thursday, October 10. Speakers covered issues relating to cybersecurity, the 2020 election, and economic development in the Miami Valley.
Our attendees had the opportunity to hear from the Mayor of Dayton, Nan Whaley and the Lieutenant Governor, Jon Husted.  We were also pleased to be joined by Secretary Frank LaRose and Treasurer Robert Sprague.
Media coverage of the conference is listed below.
WDTN – Ohio Lt. Governor and Mayor Whaley offer different approaches to gun laws at conference
WKTN – Ohio Farmers Continue to Find Relief Through AG Link
Dayton Daily News – Community facing 'crisis of gun violence,' Mayor Whaley tells leaders
Dayton Business Journal – New summit to address 'potentially crippling' workforce shortage at Wright-Patt
The outstanding event wouldn't have been possible without our sponsors and speakers!  Thank you!
The Honorable Nan Whaley, Mayor of Dayton
The Honorable Frank LaRose, Ohio Secretary of State
The Honorable Robert Sprague, Ohio Treasurer of State
Dr. Eric F. Spina, President, University of Dayton
Jim Bebbington, Editor, Dayton Daily News
Chris Kershner, Executive Vice President, Dayton Area Chamber of Commerce
Dr. Harold J. Arata, Lead Systems Design Engineer, AT&T Government Solutions
Lisa Heckler, Chief Information Security Officer, CareSource
Stephanie Singer, Vice President of Operations, Reed Elsevier Technology Services
Retired Air Force Colonel Joseph Zeis, Jr., Senior Policy Advisor for Aerospace and Defense, Office of Governor Mike DeWine
Laura Bischoff, Statehouse Reporter, Dayton Daily News
Dr. Christopher Devine, Assistant Professor, University of Dayton
Kevin DeWine, Partner, CBD Advisors
Janetta King, President & CEO, Innovation Ohio
Samantha Sommer, Investigative & Community Impact Director, Dayton Daily News
Shelley Dickstein, City Manager, City of Dayton
Roger Edwards, Vice President of Accelerant Venture Capital Fund, Dayton Development Coalition
Scott Koorndyk, President, The Entrepreneurs Center
Former Governor Bob Taft, Distinguished Research Associate, University of Dayton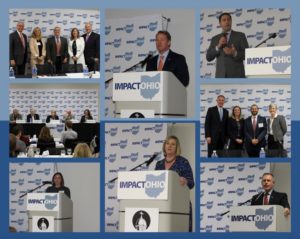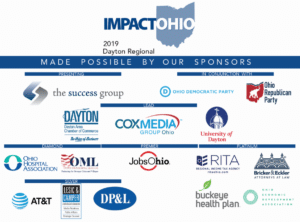 If you haven't tagged yourself in our photos yet, you still can! You can find all the photos from the 2019 Impact Ohio Dayton Regional Conference on our Facebook Page. Check out the album here: 2019 Dayton Regional Conference Photos.
Make sure to follow us on Instagram and Twitter, and like our page on Facebook to stay up-to-date on statewide policy and politics and our conferences!