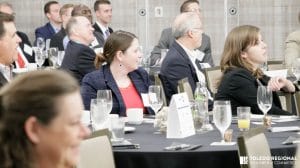 In 2017, Impact Ohio brought together hundreds of people across the state at regional conferences to explore elections, the outcome of the political process, and policy choices facing Ohio communities
At the regional events in Akron, Cincinnati, Dayton, and Toledo, Impact Ohio had some outstanding panelists who explored technology, smart cities, transportation, digital infrastructure, the opiate crisis, healthcare, party politics, media coverage of politics, the significance of local politics to Ohio's political landscape, and local elections.
Thank you to our 2016 & 2017 sponsors for the ability to bring together top voices in Ohio public policy and politics.
In 2018, Impact Ohio's focus shifts to the Post Election Conference, held every two years immediately following the general election.   The 2016 Post Election Conference was our biggest yet with nearly 700 people attending.  We look forward to a bigger and better 2018 conference.
There's little doubt that 2018 will be an exciting election year, and there are many important public policy issues to explore at the conference.
We're looking forward to the 2018 Impact Ohio Post Election Conference which, will be held on Thursday, November 8 at the Greater Columbus Convention Center. Registration will open in the coming months.