If you still need to register for the Impact Ohio Dayton Regional Conference  you have four more days until registration closes.  The conference will take place on Thursday, October 10, from 11 a.m. to 4:30 p.m. in the Meyer Room at the University of Dayton's Daniel J. Curran Place (1700 South Patterson Blvd).
We have an exciting agenda set for the conference which includes remarks from Lt. Governor Jon Husted, Dayton Mayor Nan Whaley, Treasurer of State Robert Sprague, and Secretary of State Frank LaRose.  The day also includes three separate policy discussions on issues important to the region.  Below are details for the policy sessions.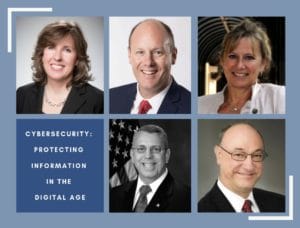 The first policy session of the day, Cybersecurity: Protecting Information in the Digital Age, will begin at 1:00 p.m. A panel of experts experts will discuss the importance of keeping public and private entities safe from hackers and cyber attacks on internet-connected systems.
Moderator: Chris Kershner, Executive Vice President, Dayton Area Chamber of Commerce
Panelists:
Dr. Harold J. Arata, Lead Systems Design Engineer, AT&T Government Solutions
Lisa Heckler, Chief Information Security Officer, CareSource
Stephanie Singer, Vice President of Operations, Reed Elsevier Technology Services
Retired Air Force Colonel Joseph Zeis, Jr., Senior Policy Advisor for Aerospace and Defense, Office of Governor Mike DeWine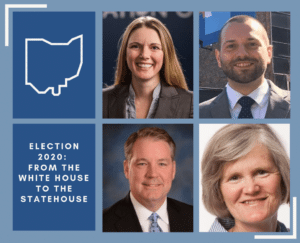 The second panel of the day, Election 2020: From the White House to the Statehouse, will begin at 2:30 p.m. This panel will discuss the role that the Dayton region and Ohio will play in the 2020 presidential election. In addition, panelists will discuss term limits in the Ohio General Assembly and what they mean for 2020 Statehouse races and the Dayton-area delegation.
Moderator: Laura Bischoff, Statehouse Reporter, Dayton Daily News
Panelists:
Dr. Christopher Devine, Assistant Professor, University of Dayton
Kevin DeWine, Partner, CBD Advisors
Janetta King, President & CEO, Innovation Ohio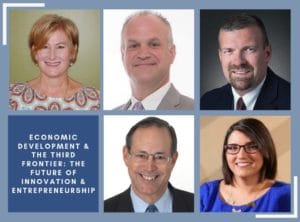 During the final panel of the day, at 3:30 p.m., panelists will discuss what the future looks like for Ohio businesses and entrepreneurs in a modern economy. Panelists will explore the future of Ohio's Third Frontier Program and how it works to accelerate growth of businesses.
Moderator: Samantha Sommer, Investigative and Community Impact Director, Dayton Daily News
Panelists:
Scott Koorndyk, President, The Entrepreneurs Center
Shelley Dickstein, City Manager, City of Dayton
Former Governor Bob Taft, Distinguished Research Associate, University of Dayton

Roger Edwards, Vice President of Accelerant Venture Capital Fund, Dayton Development Coalition