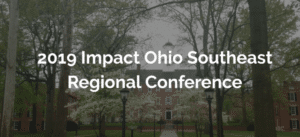 Impact Ohio will hold a Southeast Regional Conference on Thursday, November 7, at The Ohio University Inn & Conference Center, from 11 a.m. to 4:30 p.m.
The conference will offer a special, bipartisan opportunity to explore policy and politics important to Southeast Ohio.
Business and community leaders will gather at the conference to network and gain new insight into policy issues facing the community.
In addition to hearing from elected leaders, the conference will hold three public policy panels:
Exploring Infrastructure Needs in Southeast Ohio
Economic Opportunity and Elevating the Regional Economy
Creating a Culture of Health in Appalachian Ohio
Speakers and panelists will be announced soon.
Register before Thursday, October 10 for the $60 early bird registration rate.
Following the Impact Ohio Southeast Regional Conference, all attendees are encouraged to join us for the Impact Ohio Post-Conference Reception.
The post-conference reception will take place at 5 p.m. on November 7 at the President's Box at Peden Stadium (200 Richland Ave, Athens, OH 45701). This is just a few minutes' walk from the conference.
You will have the opportunity to network with elected officials, business leaders, and community leaders.
You can choose to register for the reception at the time you register for the conference.