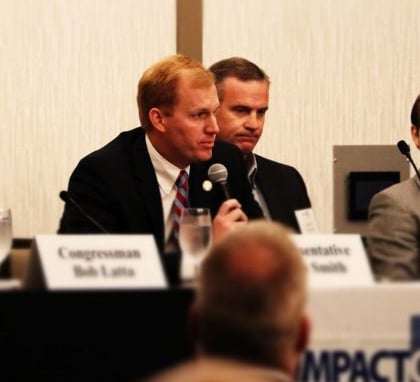 After weeks of negotiating, the Ohio House of Representatives finally chose Representative Ryan Smith (R-Bidwell) to be Speaker of the House for the remainder of the 132nd General Assembly.  The chamber has been without an official leader since former Speaker Cliff Rosenberger resigned in April amid an FBI investigation into his travel expenses. That investigation and the primary wins of allies of Smith's main opponent in the speaker's race, Representative Larry Householder (R-Glenford), contributed to a stalemate within the Republican caucus over who would replace Rosenberger for the remainder of the term.
Smith and Householder were both angling to replace Rosenberger at the end of the year when his tenure was to end due to term-limits.  However, Rosenberger's sudden resignation and the fallout from the FBI investigation further complicated any already ugly contest as the House was forced to pick a speaker earlier than expected.
After 11 rounds of voting following almost eight weeks of division within the Republican caucus, Representative Smith was elected speaker in a plurality vote.
Republicans in the Ohio House currently have a 66-33 majority over Democrats. Traditionally, the majority party decides on a speaker amongst themselves and the minority unanimously votes for that choice.  However, Republicans could not settle on a candidate that would reach the required number of votes, effectively stopping the chamber from passing legislation.  Republicans were spilt between Smith, Representative Andy Thompson, and Representative Jim Hughes.  Both Hughes and Thompson were supported by members who back Householder in the speaker's race, dividing the Republican caucus enough to prevent Smith from becoming speaker with Republican votes alone.  To avoid picking sides in the speaker's race, and to provide their own alternative, most Democrats voted for Minority Leader Fred Strahorn (D-Dayton) for speaker. The only Democrats not to vote for Strahorn were Representative John Barnes (D-Cleveland) and Bernadine Kent (D-Columbus) who both voted for Representative Smith.  In the first 10 rounds of voting, a majority of votes from present members was required to elect a speaker, on the 11th vote only a plurality was needed.  Smith received 44 votes in every round of voting but remained two short of a majority.  On the 11th vote, Smith's 44 votes were enough to make him speaker.
Prior to becoming speaker, Representative Smith was the well-respected chairman of the House Finance Committee.  Smith was also Rosenberger's preferred choice to take over the speaker's job and donated much of his campaign money to the Ohio House Republican Organizing Committee (OHROC), the Republican caucus campaign arm which was controlled by Rosenberger.  The investigation of Rosenberger has caused some to raise questions about Smith even though Smith has never been implicated in the investigation and says he has done nothing wrong.
In the May primary, Both Representative Householder and Smith engaged in a proxy war backing candidates who would support their respective bids for the speakership.  Householder's allies overwhelmingly won these races beating Smith candidates in as many as a dozen races.  While Smith has much more support than Householder in the current General Assembly, Householder's victories in the primary means Smith will have a greater challenge when the House picks a speaker next general assembly.
Representative Householder was previously Speaker of the Ohio House from 2001-2004. During his tenure, Householder was accused of bullying and arm-twisting, which ultimately lead to an FBI investigation into Householder's use of campaign funds. Householder was never prosecuted or charged with a crime but two of his top aides were fired for their roles in the scandal.  Despite the past investigation, Householder remains a force around the Statehouse using his formidable fundraising ability to wield influence.
With the battle over the speakership settled for the moment, the House returns to work.  Bills on the docket include HB 123, which regulates the pay-day loan industry, HB 456, a bill banning forced overtime for nurses, and SB 135, which provides millions of dollars for new voting machines.
It is unclear what next year will look like at the Ohio House as Republican disunity and national backlash against President Trump gives Democrats what they hope is the opportunity they need to strike a blow against Republican dominance at the Statehouse. Whatever happens, Impact Ohio will breakdown what it means at Post Election Conference on November 8, 2018.