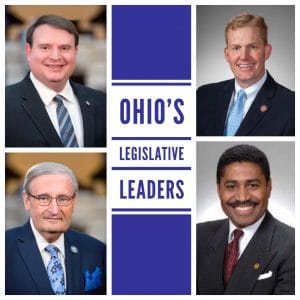 This year at the Post Election Conference, we will have four of Ohio's legislative leaders reflect on statewide politics and policy. This year's event will feature: Senate President Larry Obhof, House Speaker Ryan Smith, Senate Minority Leader Kenny Yuko, and House Minority Leader Fred Strahorn.
Each caucus leader will offer  brief comments in Union Station Ballroom AB from 11:00 a.m.-12:00 p.m. on November 8th at the Greater Columbus Convention Center.
Senate President Larry Obhof (R-Medina) is responsible for leading the Senate's Majority Caucus as it sets the policy agenda for the 132nd General Assembly. He has spent his career in public service working to improve Ohio's economy and advocating for fiscal conservatism, lower taxes, and smaller government. President Obhof Chairs the Rules and References Committee, the Joint Legislative Ethics Committee, and the Legislative Service Commission. In addition, President Obhof has received numerous "Legislator of the Year" awards and is a graduate of The Ohio State University and Yale Law School.
House Speaker Ryan Smith (R-Bidwell) is currently serving his third term in the Ohio House of Representatives as the 103rd Speaker of the House. Speaker Smith graduated with a Bachelor of Science in Finance from The Ohio State University and has had an extensive career working as a financial advisor. In addition, Speaker Smith is actively involved in his community and has served on the Gallipolis City School Board and the Gallia County Chamber of Commerce. Speaker Smith spent two terms as Chairman of the Finance Committee, and continues to prioritize Ohioans' needs by tackling issues related to the opioid epidemic and workforce development.
Senate Minority Leader Kenny Yuko (D-Richmond Heights) attended Kent State University before joining the workforce and going on to become a union organizer for 25 years. After retiring, he ran for The Ohio House of Representatives in 2004. Senator Yuko has spent his public service career with the goal of protecting working families, promoting health care access, and improving Ohio's economy. Senator Yuko served as Chairman of the Commerce and Labor Committee in addition to serving on the Health and Aging and Veterans Affairs Committees. Senator Yuko has received various awards that highlight his efforts in improving Ohio's communities.
House Minority Leader Fred Strahorn (D-Dayton) served as state representative from 2001-2008, state senator from 2009-2011, and Senior Political Advisor to the Ohio Democratic Party from 2011 to 2013. Representative Strahorn returned to the Ohio House in 2013 and currently serves on the Rules and Reference Committee. In addition to years of public service, Representative Strahorn has experience managing residential properties and selling real estate. Representative Strahorn has also served as vice president of government affairs for the Ohio United Way and is a graduate of The Ohio State University.
We look forward to hearing from these legislative leaders on November 8th as they discuss their plans for Ohio following the election and moving into the future.