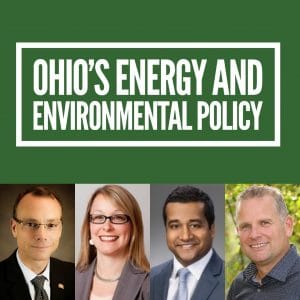 "Ohio's Energy and Environmental Policy: A Look Back & A Look Forward," will be one of three breakout sessions at Post Election Conference on November 8th. We are excited to welcome three of Ohio's leaders and policymakers in the field to share their expertise on energy and the environment, and to discuss what's next for the state moving forward. This session will take place from 1:45 p.m.-2:45 p.m. in Taft CD at the Hyatt Regency Columbus, directly following the address from Ohio's next Governor.
This year's panelists include: Craig Butler, Director of the Ohio Environmental Protection Agency, Matthew Evans, President of Boich Companies, Asim Haque, Chairman/CEO of the Public Utilities Commission of Ohio, and Jennifer Lynch, Principal of Remington Road Group. Rick Ayish from The Success Group will moderate the panel.
Ayish has earned a reputation in his more than 40 years of government experience as a knowledgeable governmental affairs and political strategist, offering his expertise in various fields—including environmental regulation. Ayish founded Ohio Capitol Policy Consultants in 1989 and previously served in governmental affairs positions for Ohio Blue Cross and Blue Shield and the Ohio State Medical Association.
Craig Butler was appointed as Director of the Ohio EPA by Governor Kasich in 2014. He previously served as the Assistant Policy Director for Energy, Agriculture and the Environment and as chief of the Ohio EPA's Central and Southeast District Offices. Butler has worked in public service for more than 24 years, is a member of the Dangerous Wild Animal Board, and is a former member of the Board of Directors for the Ohio Alliance for the Environment.
Matthew T. Evans is president of Boich Companies and previously served as president of external relations for Boich Companies.  He joined Boich Companies in 2001 and leads the company's government affairs activities at both the state and federal levels. He also serves as an interface between Boich Companies and several of the nation's largest utilities.  Mr. Evans has nearly 20 years of experience managing energy policy issues at both the state and federal level.
Asim Haque was appointed to the PUCO by Governor Kasich in 2013. He has testified before members of the Ohio General Assembly and the Federal Energy Regulatory Commission, in addition to educating regulators abroad through the U.S Agency for International Development and the U.S Department of Energy. Haque currently serves as Vice-Chair of the Task Force on Environmental Regulation and Generation and is a member of the Electricity and Critical Infrastructure Committees.
Jennifer Lynch brings 20 years of experience in legislative and regulatory affairs, with a focus on energy and agriculture policy. Lynch served as the policy advisor to former Ohio Governor Ted Strickland on regulatory matters, including energy and the environment. In addition, Lynch served as the state policy director to President Obama during his 2008 Campaign. Lynch is currently on the board of New Resource Solutions, a platform developed to efficiently connect clean energy projects with clean energy investors.
We look forward to having these speakers reflect on the most pressing issues facing Ohio's environment and energy sectors and the best policies moving forward.