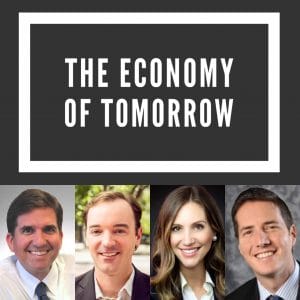 "Preparing for the Economy of Tomorrow" will be one of three breakout sessions at the 2018 Post Election Conference. We have invited four highly esteemed business leaders, elected officials, and policymakers to lead the discussion regarding the future of Ohio's economy. This year's panelists will include: Elizabeth Brown, Councilmember, City of Columbus, Randy Cole, Executive Director of Ohio Turnpike and Infrastructure, Bernie Moreno, President of the Bernie Moreno Companies and founder of the Blockchain Cleveland Movement, and Sam Reed, Director of Government Relations for Bird Rides.
This breakout session will take place in Taft AB from 1:45 p.m.-2:45 p.m. at the Hyatt Regency Columbus, directly following the Luncheon Address from Ohio's next Governor. Dan McCarthy from the Success Group will moderate the Panel.
McCarthy, President of The Success Group, is responsible for the firm's day-to-day business operations. He has extensive experience working in politics and public affairs, starting his career as a legislative aid specializing in budget issues in the Ohio House. At The Success Group, McCarthy serves a broad array of clients and has developed a deep understanding of various issues, including those surrounding the local and state economies.
Elizabeth Brown was elected to Columbus City Council in 2015. Brown is the part-time executive director of the Ohio Women's Policy Network and and has extensive experience working in nonprofits, state government, and economic development. Brown works to fight for economic prosperity and business growth while also tackling the community's most pressing issues, like poverty and wage stagnation.
Randy Cole has served as Turnpike Director since 2014. He previously served as Controlling Board President and Policy Advisor to the Ohio Office of Budget and Management. In addition, Cole is a member of both the Advisory Board of DriveOhio and the Board of Directors of the International Bridge, Tunnel, and Turnpike Association. In 2013, Government Technology magazine named Cole as one of the nation's Top 25 Doers, Dreamers, & Drivers.
Bernie Moreno has built the largest-volume collection of luxury car dealerships in the Midwest. In addition to his business successes, Moreno is highly involved in his local community and serves in leadership capacities with organizations including the Cleveland Foundation, Tri-C Foundation, Greater Cleveland Partnership, and Destination Cleveland. Moreno has served as Chair of the Board of Cleveland State University and as a member of the Governor's Ohio Task Force on Community-Police Relations.
Sam Reed serves as Director, Government Relations, Central Region, Bird Rides and is involved in one of the most rapidly up-and-coming forms of transportation in Columbus.  He joined The Ingram Group in 2012 as a Strategic Consultant and is the former staff attorney to U.S. Congressman Jim Cooper. Reed services a wide variety of clients on city, state, and federal levels and offers his expertise regarding business and regulatory issues.
We look forward to having these leaders join us at Post Election Conference on November 8 to discuss the state of our economy and its future development.