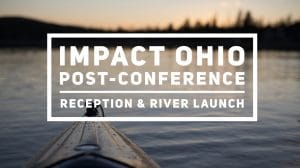 Impact Ohio is coming to Youngstown on Thursday, September 12 for the Youngstown/Warren Regional Conference at Stambaugh Auditorium from 11 a.m. to 4:30 p.m.
Following the conference, all attendees are encouraged to join us for the Impact Ohio Post-Conference Reception & River Launch, hosted by the Regional Chamber Foundation.
Covelli Enterprises President & CEO Sam Covelli and Youngstown State University President Jim Tressel will deliver welcoming remarks at the Regional Chamber Foundation's post-conference reception and river launch.
The post-conference reception and river launch will take place at 5 p.m. on September 12 at the B&O Station in downtown Youngstown. Sponsored by Covelli Enterprises, the reception will include food, drinks, and canoe and kayak outfitting for attendees.
Attendees will include state government officials, as well as local business leaders.
Click here to register for both the conference and reception.