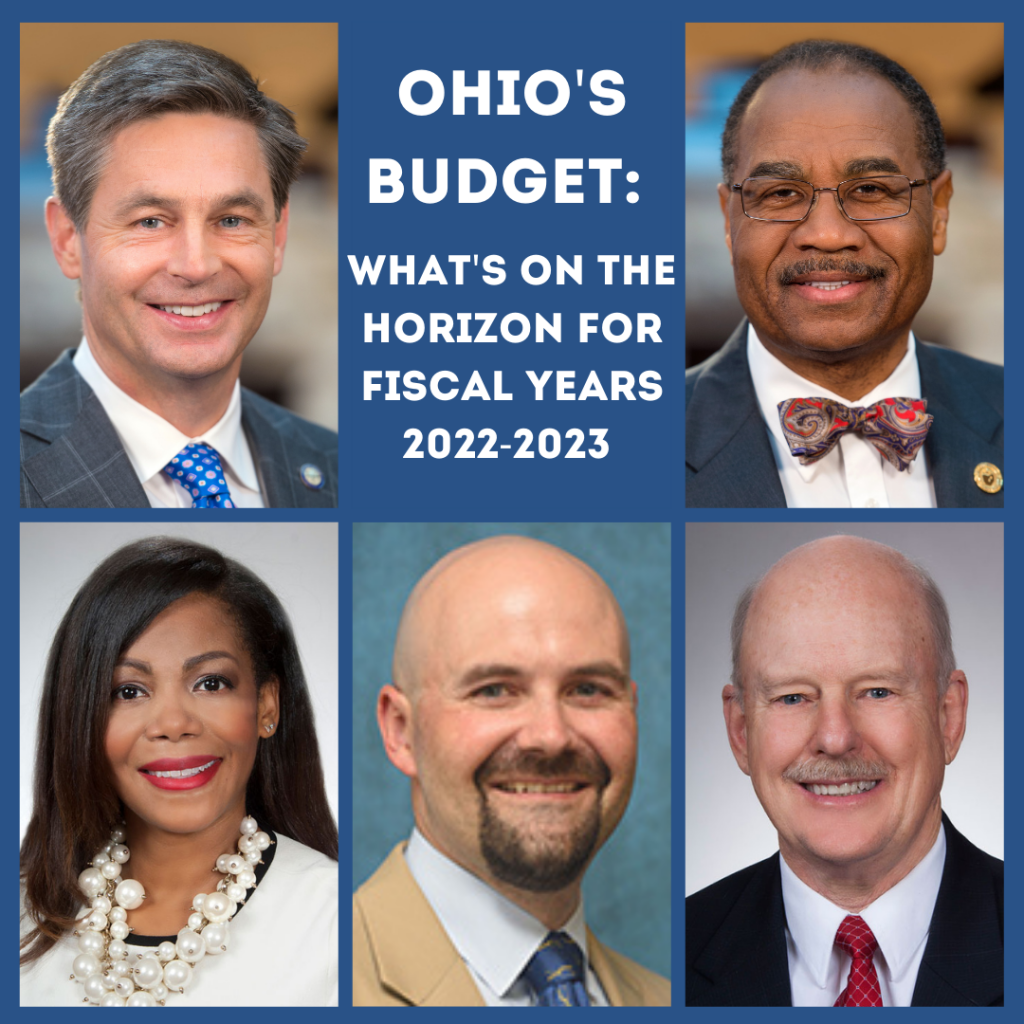 "Ohio's Budget: What's on the Horizon for Fiscal Years 2022-2023" will be one of three panels at the virtual 2021 Akron-Canton Regional Conference on April 23. We are excited to welcome several members of the Ohio General Assembly to give us insight into the proposed budget and what it will mean for the Akron-Canton region. This session will take place from 9:00 a.m.-10:00 a.m. via Zoom.
Senator Matt Dolan, Chair of the Senate Finance Committee, Senator Vernon Sykes, Ranking Member of the Senate Finance Committee, Representative Bill Roemer, Member of the House Finance Committee, and Representative Erica Crawley, Ranking Member of the House Finance Committee will speak on the panel. Dr. Matthew P. Akers will be moderating the session.
Dr. Matthew P. Akers, Ph.D., holds a dual role at The University of Akron, serving as Public Liaison in the Office of the President and as Associate Director of the Ray C. Bliss Institute of Applied Politics in the Buchtel College of Arts and Sciences.  In his role of Public Liaison, Dr. Akers represents the University in interactions with government officials, community leaders, and University stakeholders as well as with area chambers of commerce and other economic development entities. In his role of Associate Director of the Ray C. Bliss Institute of Applied Politics, Dr. Akers contributes to the management of day-to-day activities of the Institute, including programs, projects, events, and student internships. He also contributes to academic components of the Institute, including teaching courses.  Dr. Akers earned his B.A. in English from The University of Akron and his Ph.D. from Drew University in Madison, N.J. He resides in Doylestown, Ohio, with his wife and four children. 
Representative Erica C. Crawley (D-Columbus) represents Ohio's 26th House District and brings a wealth of advocacy experience to the Ohio House of Representatives, having worked on behalf of children and families as a Court Appointed Special Advocate for Children (CASA), and in positions with the YWCA Head Start/Early Start Program and the Black Child Development Institute. Representative Crawley served in the U.S. Navy and holds a J.D. and M.P.A. Leader Crawley's legislative priorities have focused on maternal health, infant mortality, birth-to-five initiatives, housing and food insecurity, and veteran's issues. Representative Crawley serves as the Ranking Member on the House Finance Committee and a member of the Armed Services Committee and was appointed to the Governor's Commission on Infant Mortality, the Commission on Minority Health, the State Controlling Board, the Capitol Square Review and Advisory Board, and is a founding member of Ohio's Black Maternal Health Caucus.
Senator Matt Dolan (R-Chagrin Falls) is currently serving his second term in the Ohio Senate, representing portions of Cuyahoga County. His background in the private and public sectors is extensive as well as diverse. He is currently a partner at the law firm of Thrasher, Dinsmore & Dolan, where he represents business clients in a variety of matters, in addition to handling municipal law and real estate matters, including zoning and land use issues. He is also Vice President of 7th Avenue Properties, where he manages several area businesses as well as real estate properties. Senator Dolan has been an adjunct professor at the Case Western Reserve School of Law, as well as Kent State University's Geauga Campus. He is a former Chief Assistant Prosecutor for Geauga County and Assistant Attorney General for the State of Ohio. Senator Dolan also served three terms in the Ohio House of Representatives, representing Ohioans of the 98th House District, which included parts of Cuyahoga County and Geauga County. While in the House, he earned the opportunity to serve as Chairman of the Finance and Appropriations Committee during his second term. He was also the sponsor and chief advocate of the Great Lakes Compact.
State Representative Bill Roemer (R-Richfield) is currently serving his second term in the Ohio House of Representatives. He represents the 38th House District, which includes western portions of Summit and Stark counties.  A longtime community leader in Summit County, Representative Roemer served as a member of Summit County Council and as Vice President of the Summit Educational Service Center Board of Governors. For the last 16 years, he has worked as a substitute teacher in the Revere School District, teaching students in upper-level math and tutoring children as well.  Representative Roemer has a Bachelor of Science Degree in accounting from Case Western Reserve University, where he graduated Summa Cum Laude. He also earned a Master of Business Administration degree from the Weatherhead School of Management of Case Western Reserve University. Representative Roemer is also a certified public accountant and the Chairman of the House Finance Subcommittee on Health and Human Services.
Senator Vernon Sykes (D-Akron) is currently serving his second term in the Ohio Senate, where he represents the 28th Senate District. In addition to his work as a senator, Senator Sykes is a Professor Emeritus of Political Science and former Director of the Columbus Program in State Issues at Kent State University.  He serves as the President of the Ohio Legislative Black Caucus. Senator Sykes has held previous positions in the Akron City Council and the Ohio House of Representatives. Called to public service at a young age, Senator Sykes has worked to improve life for Ohioans. As a longtime advocate for redistricting reform, he championed the redistricting of Ohio's state legislative and congressional districts to give Ohioans more choices, better reflecting their needs at the Statehouse and in Congress. He has also passionately and successfully fought to create meaningful legislation that expands access to early childhood education, makes higher education more affordable, combats child abuse, and prevents housing discrimination against people with disabilities. Senator Sykes' unwavering commitment to his constituents opened many doors for him during his time spent in the Ohio House of Representatives. Senator Sykes has served as Assistant Majority Floor Leader, Chair of the House Finance & Appropriations Committee, Chair of the Joint Committee on Agency Rule Review, Co-Chair of the Ohio Constitution Modernization Committee, and Co-Chair of the Budget Planning & Management Commission.
We look forward to having these legislators discuss the 2022-2023 state operating budget and its impact on the Akron-Canton region and Ohio.