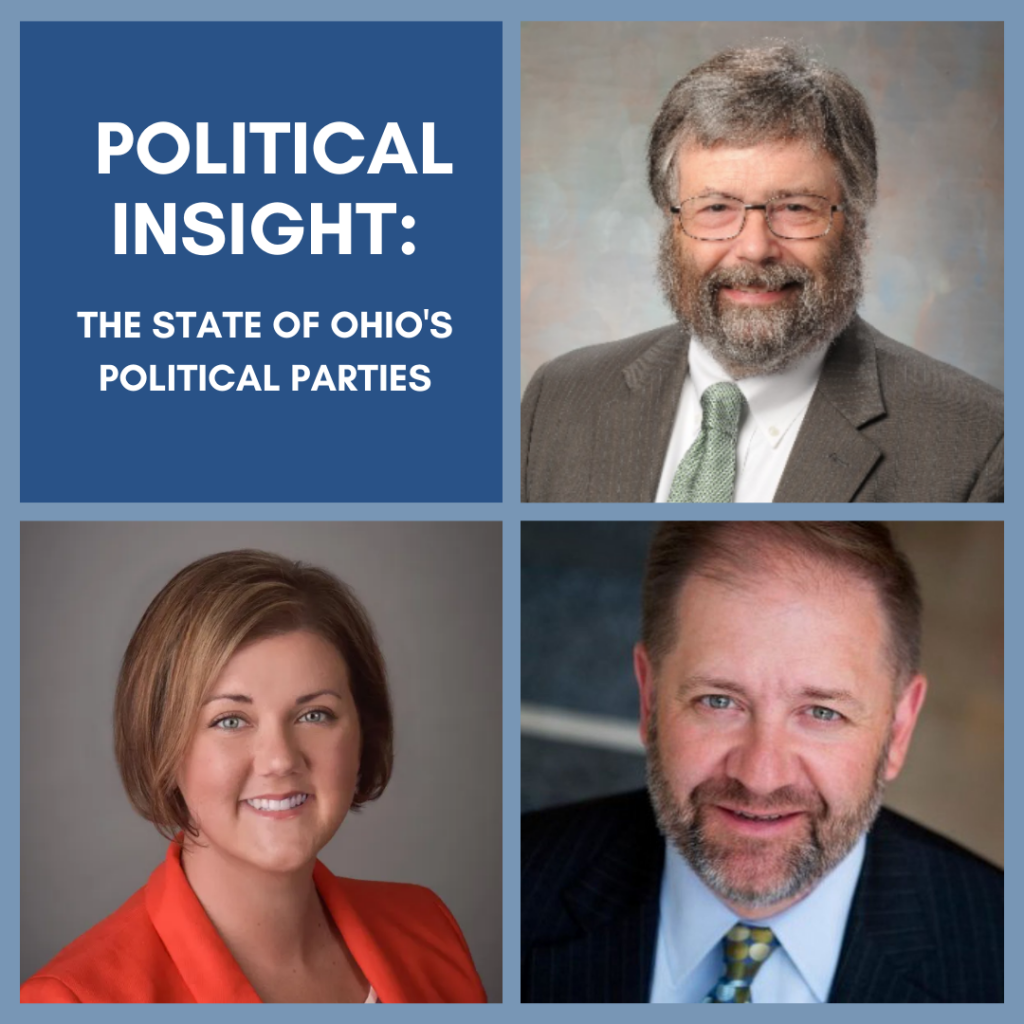 "Political Insight: The State of Ohio's Political Parties," will be one of three panels at the virtual 2021 Akron/Canton Regional Conference on April 23. We are excited to welcome Ohio's new party leaders to share their observations and outlooks on their respective parties and discuss what's next for the Ohio Democratic and Republican parties. This session will take place from 11:30 a.m.-12:30 p.m. via Zoom.
Chairman Robert Paduchik will be speaking on behalf of the Ohio Republican Party (ORP) and Chairwoman Elizabeth Walters will be speaking on behalf of the Ohio Democratic Party (ODP). Dr. John Green, Director Emeritus at the University of Akron's Ray C. Bliss Institute of Applied Politics, will moderate the panel.
Dr. John C. Green is a Distinguished Professor of Political Science at the University of Akron. He is also a Senior Fellow with the Pew Forum on Religion & Public Life.  Green is widely known as an observer of Ohio and national politics, and he is frequently quoted in the national and state media on religion and politics. The University of Akron Board of Trustees named Green as Director Emeritus of the Ray C. Bliss Institute for Applied Politics in 2019 and announced the creation of a scholarship in his name. The Ray C. Bliss Institute of Applied Politics is a bipartisan research and teaching institute dedicated to the nuts and bolts of practical politics. Green is co-author of The Bully Pulpit: The Politics of Protestant Clergy; Religion and the Culture Wars: Dispatches From the Front, The Diminishing Divide: Religion's Changing Role in American Politics, The State of the Parties, Multiparty Politics in America, and Financing the 1996 Election.
ODP Chairwoman Elizabeth Walters serves as President of the Summit County Council and was previously the ODP Executive Director in 2014. At age 37, Walters is the first female chairperson that ODP has had. On Council, she is the Chair of the Personnel Committee and is Vice-Chair of the Planning and Economic Development Committee. She serves as a liaison to Summit County Executive Ilene Shapiro's Council on Diversity and Inclusion and served on the Summit County Planning Commission. Chairwoman Walters has also worked for organizations that seek to improve the lives of middle-class families, local non-profits, has led Democratic campaigns and organizations, and served as a senior aide to Congresswoman Betty Sutton in Ohio's 13th Congressional District for several years.
ORP Chairman Robert Paduchik, is an accomplished strategist with three decades of experience leading political and public affairs campaigns. He was elected as the Ohio Republican Party Chair in February 2021. Recognized by many political professionals as one of the "outstanding campaign managers in America" and an expert in Ohio politics, Chair Paduchik has gained extensive experience advising Republican campaigns at the local, state, and federal levels. He is a proven leader of multi-million dollar initiatives representing the energy sector and other industries. Paduchik previously served as a senior advisor on President Donald Trump's 2020 re-election campaign, as the co-chairman of the Republican National Committee, and as an Ohio State Director for Donald Trump's 2016 presidential campaign.
We look forward to having these speakers join us on April 23.